FINAL PATROL
I have one consolation that lives with me today.
That God is near to them, in his own special way.
So God in all Your mercy, keep near Thyself the soul,
Of every Submariner, still on his final patrol.

Lord, this departed shipmate with Dolphins on his chest
is part of an outfit known as the best.
Make him welcome and take him by the hand.
You'll find without a doubt he was the best in all the land.

So, heavenly Father add his name to the roll
of our departed shipmates still on patrol.
Let them know that we who survive
will always keep their memories alive.
Navy Hymn for Submariners
Bless those who served beneath the deep,
Through the lonely hours the vigil they had to keep,
May eternal peace their mission ever be,
Bless each one we ask of thee,
Comfort those who at home who waited and prayed,
For their return night and day.
We are deeply saddened to pass the word that our fellow member and Shipmate, Robert S. "Bob" Adler, has received his orders to report to the Supreme Commander to begin his Eternal Patrol.
Sailor rest your oar......
Bob, 79 died unexpectedly on August 25, 2008 at his son's residence in Scarborough. He was born in Waltham, Mass. Dec. 27, 1928, the son of Ralph and Ethel (Sherman) Adler. Bob was married to Jean Eleanor (Spears) Adler for 56 years. Bob was involved in the Scouts and Sea Scouts organizations throughout the majority of his life. In Sea Scouts he earned the prestigious Quartermasters award which was presented to him aboard the U.S.S. Mindoro in June of 1947. Bob joined the Navy Reserves in 1948 as a Seaman Apprentice in the Organized Submarine Division of Boston and was called to active duty in 1952 during the Korean War and served aboard the USS Grenadier (SS 525). His tour of duty included submarine operations with a cruise to South America. Bob was honorably discharged from the Navy in 1954. Bob was a life member of the United States Submarine Veterans Incorporated and in 2001 he became one of the founding members of the U.S.S. Maine Base Submarine Veterans Inc. He was very active in both the Maine and Florida chapters and in 2003 he was inducted into the Holland Club.
Bob's Boat - USS Grenadier SS-525
--------------------------------------------------------------------------------------------------------
Shipmate Dick McGoldrick has received his orders to report to the Supreme Commander to begin his Eternal Patrol.
Sailor rest your oars......
Richard Deane McGoldrick
DENMARK --
Richard Deane McGoldrick was born in Boston, Mass., on May 12, 1928, to Bernard Francis and Gertrude (Deane) McGoldrick, and passed away peacefully at home on Oct. 3, 2010, after a long battle with esophageal cancer.

He lived in Quincy and Centerville, Mass., attended

Thayerlands

Academy and

Cranwell

Prep in Massachusetts, and graduated from the University

of

Notre Dame with a Business Administration degree in 1950. He was in the Navy program at UND and was discharged from the Navy in 1954 as a LTJG. He worked in the food business during most of his career, as well as being active in

community theater

, a member of SAG and AFTRA, was seen in major movies and made-for-TV movies, performed in many industrial films, as well as doing a lot of modeling while he was living in the Boston area.

He was married to Marcia O'Keeffe in 1951. They had four children: Bernard Francis, Mary Marcia, Richard Deane Jr., and Michael Arthur, and resided in Wellesley, Mass. In 1977 Dick was one in a cadre of men who opened a half-way house known as Answer House, supported their fund-raising efforts and realized the eventual addition of Sullivan House, both in South Boston. Dick was an avid golfer, played in many tournaments, and in 1973 was president of Woodlands Country Club in Newton, Mass.

Dick moved to Maine in 1984 where he operated Old Port Yacht Sales in Portland. Here he met his loving wife, Marilyn. Together they enjoyed sailing the Maine coast as well as 'going south' and

cruising

the Caribbean. They also journeyed on many extended motor home trip adventures around the country.

Dick moved to Denmark in 1985, sold his food brokerage company, and started new careers, which included becoming an EMT II, a Constable, an Animal Control Officer (in 10 towns), a Substance Abuse Counselor, a Domestic Violence facilitator, a Bail Commissioner, President of Harvest Hills Animal Shelter, and was again, active in community theater.
He was very proud of having served his country throughout his adult life, was awarded a Certificate of Recognition from the U. S. Secretary of Defense for his service, and recently received an Honorary Submariner certificate from the Maine Base Submarine Veterans. In 2001 he received the Family Crisis Services Criminal Justice Award. Dick was a member of the Harrison American Legion Post, a one-time member of the Bridgton Lions, and an Associate member of the USS Maine Base Sub-Veterans.
Dick wore many hats
Embarked on eternal patrol 9 October 2010
--------------------------------------------------------------------------------------------------------------------------------------------------------------------------------------------------------------------------------------------------------------------------------------------------------------------------------------------------------------
We are deeply saddened to pass the word that our fellow member and Shipmate, John Morrill, has received his orders to report to the Supreme Commander to begin his Eternal Patrol.
Sailor rest your oar......

John P. Morrill
January 23, 1931 - October 8, 2011
Portland – John P. Morrill, passed away on Saturday, October 8, 2011. He was born in Portland on January 23, 1931 the son of the late, John A. and Ann M. Morrill.
He attended North School, William B. Jack Junior High and Portland High School class of 1949. He graduated from SMVTI in 1977 with an associates degree in law enforcement technology.
He enlisted in the US Army Nov 1949, he graduated from US armored school, Ft. Knox, KY and served in Korea with "D" company, 89th MTB Sept 1950 - Oct 1951, instructor duty armored school Ft. Knox 1952 until discharge in Oct 1952. He then enlisted in the US Navy in Feb 1953, graduate of US Navy Leadership school, instructor school and nuclear power school. He served on board; USS Abraham Lincoln SSBN 602 (Gold Crew), retired from US Navy Oct 1970 as MMC(SS).
He earned the Purple Heart (US ARMY), Army Good Conduct Medal (four awards), Navy Good Conduct Medal, National Defense Medal, Korean Service Medal, UN Korean Service Medal and ROK Korean War Service Medal, US Navy Submarine Dolphins and SSBN Deterrent Patrol Pin (6 patrols).
He was a life member Military Order of the Purple Heart, life member VFW post 6859, life member US Submarine Veteran's Inc., member of Korean War Vets, Fleet Reserve Association and 69th Armored Regiment Association.
As a civilian he worked at SMVTI as Assistant Instructor and tool room supervisor Nov 1970 to July 1971. Worked as a federal Police Officer at the US Federal Courthouse, Portland, ME from July 1971 until retirement in Dec. 1994.
He coached Little League Baseball in Long Beach, CA for two years, coached youth football from 1991 until just recent and helped form the Portland Youth Football League with Jim Hartman. In his spare time he enjoyed sailing, fishing, family cookouts and computer games.
He is predeceased by his brother, Charles Thomas Morrill and grandson, Randy L. Good.
He is survived by his wife, Waneta L. Norwood whom he married on Peaks Island on May 22, 1955; four children, Jennie E. Morrill, John P. Morrill, II, Peggy Ann Morrill, Thomas D. Morrill; grandchildren, Jason L. Morrill and Joleen P. Morrill; great grandchild, Mason Jay Morrill.

John's Boat USS Abraham Lincoln SSBN-602
The Final Farewell
----------------------------------------------------------------------------------------------------------------------------------------------------------
Shipmate Jack Wright
John 'Jack' Neyland Wright, Ph.D.
Jack, 75, died at his home in Denmark on May 5, 2012.
Jack Qualified on the USS Ethan Allen SSBN/SSN 608 in 1964
He was born in Hempstead, N.Y., and was 75 years young.
Jack had recently retired from Maine Medical Center, where he was employed for over 10 years as a manager in the Department of Information Systems. He leaves his wife, Holly Best of Denmark; his sons, Charlie Wright of Connecticut and John Wright of Indiana; his brother- in-law, Jeffrey Rhodes and wife Carol Farnsworth of Denmark, his sister-in-law, Heather Rhodes and nephew Ivan Carija of Mystic, Conn., and his sister-in-law Carolyn Wright of North Carolina. Jack was a self-made man who worked many jobs to put himself through college and graduate school and earned a Masters and Ph.D. in Sociology from the University of Connecticut. He was the first ex-police officer in the country to earn a Ph.D. in sociology/criminal justice/ demography. During his life he worked as a police officer in Connecticut, and taught sociology, criminal justice, and demography as a professor at the University of Connecticut, University of Maryland and the University of Baltimore. He worked in the field of medical informatics for over 30 years. As a Research Professor at the University of Maryland School of Medicine, along with his dear friend David Nagey, MD, Ph.D., he created the Maryland Perinatal Database, the largest women's health database ever created. He also worked at Johns Hopkins Hospital in Baltimore and most recently at Maine Medical Center. Teaching as a professor was always dear to his heart. His time in the Navy earlier in his life was also important to him. One of his most treasured accomplishments was earning his Dolphins insignia as a proud member of the U.S. Submarine Service, while serving as Leading Petty Officer in the engine room of the USS Ethan Allen. He was a member of the Maine Sub-Vets organization and worked hard on the Thresher Memorial Project. Jack loved his dogs, an eclectic variety of music, his home in Maine, writing, woodworking, classical guitar and was an avid reader and researcher. He was truly a renaissance man. He was loved by his family and friends and will be deeply and profoundly missed.
------------------------------------------------------------------------------------------------------------------------------------------------------------------
Robert J. Anderson, 85

BRUNSWICK -- Captain Robert J. "Bob" Anderson, USN (Ret.) died on Thursday, July 5, 2012, at age 85, due to complications from Parkinson's Disease.

Born in Lafayette, Ind., on May 6, 1927, Bob was the middle son of Herbert Ray and Edna Clementine Neff Anderson. He graduated from Calumet High School (Chicago) in February 1945, where he was Cadet Captain of the ROTC unit. Without further delay, he enlisted in the U.S. Naval Reserves. The Navy assigned him to radio-electronics training where he excelled in his studies. When WWII ended, Bob was sent to the newly-established Naval Reserve Officers Training Corps (NROTC) program at the University of Utah for more electronics instruction. With the heavy post-war drawdown in full swing, Bob was honorably discharged in June 1946, earning the WWII Victory Medal and WWII American Theater ribbon during this first stint with the Navy.

After his freshman year, he spent the summer working in Utah salt mines (as he said, "to convince him of the value of education"). Bob returned home to Indiana and rejoined NROTC as a sophomore for the fall 1946 semester at Purdue University in West Lafayette, to study Electrical Engineering. Upon graduation with his EE degree in August 1949, he was commissioned an Ensign and reported to the destroyer USS Borie in Norfolk, Va., to start a 28-year Naval Officer career. He served aboard Borie until June 1951, making cruises as Assistant Gunnery Officer and ASW Officer to the North Atlantic, Mediterranean Sea, and the Sea of Japan where he saw combat in the Korean War.

He left the 'destroyer Navy' via a transfer to the Submarine Service, starting right away with Submarine School in New London, Conn. Over the next 17 years, Bob served aboard submarines USS Dogfish, USS Bergall, USS Segundo, and he commanded the USS Becuna and Submarine Division Twenty-One.

He also enjoyed overseas assignments on the staffs of U.S. Naval Forces Europe in London, England, and U.S. Southern Command in Rodman, Panama. He then returned to the U.S. for duty as Professor of Naval Science and Commanding Officer NROTC at University of Oklahoma. His final assignment in the Navy was as Commanding Officer of the repair ship USS Hector, out of Naval Shipyard Mare Island, Calif. Captain Anderson retired in March 1977 and after nearly a year of touring the country in a motor home, settled in Freeport. During his naval career, Bob had completed additional schooling at Naval Post Graduate School (1958); Armed Forces Staff College, Norfolk, Va. (1965); and he earned an M.A. degree in International Relations in 1967 from the University of Southern California.

Bob enjoyed shooting, and competed on rifle and pistol teams in high school, college and in the Navy. He qualified as a Life Master with the high-powered rifle and was awarded a "Distinguished Marksman" badge in 1959 when he was also the Pacific Fleet Individual Champion in high-powered rifle competition.
As a longtime Freeport resident, Bob was active in the community as a volunteer worker for Freeport Community Services, Lyric Theater in South Portland, Maritime Museum, Mid Coast Hospital, and he served as an EMT and driver with the Freeport Rescue Unit for 11 years. He was a substitute teacher in the area for many years, where he annoyed many kids by expecting the use of proper grammar and by actually being able to teach the assigned advanced math or science curriculum.

He was an enthusiastic sailor who with his spouse, cruised the Maine coast each year from 1979 until selling his Bristol-32 "B-Hive IV" in 1996. After vacationing in Berchtesgaden, Germany, Bob was an avid skier till his knee gave out. He was also a lifelong Red Cross blood and platelet donor, giving over nine gallons of blood. He was a great Purdue basketball fan (and therefore a fan of whoever beat Notre Dame), and loved OU football from his days on staff there. He was extraordinarily well-read, loving Sherlock Holmes and poetry, and had wide-ranging knowledge that allowed him to carry on a conversation with anyone about anything.

Bob was also a member of various local and national organizations: Thomas Means Club, Freeport; AF&AM Masonic Lodge 23, Freeport; U.S. Submarine Veterans, Inc.; member and former Board member of Harraseeket Yacht Club and the Casco Bav Council of the Navy League; life member American Legion Post 83, Freeport; life member of the Military Officers Assoc. of America and the National Rifle Association.

Not having a personality suited to living alone, Bob was married to three wonderful women: Barbara Joyce Wyman (1954-91), Laura Deane "Cricket" Field (1993-98), and Carol Fenn (m.1999). With Barbara, Bob raised three children during his Navy career, and he had 12 grandchildren and three great-grandchildren.

Bob was predeceased by his parents; his wife Barbara (1991); his wife Cricket (1998); his older brother Carl; and a grandson Sean. He will be greatly missed by his wife Carol of Brunswick; son Brian Anderson and his wife Michelle of Shelley, Idaho, daughter Beth Ewerth and her husband Keith of Midland, Mich., daughter Beverly Diller and her husband Marty of Brunswick; a brother, Bill Anderson and his wife Kay of Littleton, Colo., his sister Sharon Gard and her husband Lou of Tucson, Ariz.; and his many grandchildren; great-grandchildren and nieces and nephews.
----------------------------------------------------------------------------------------------------------------------------------------------------------------------
John T. Wilson
Went on Eternal Patrol 28 Dec 2012
 JOHN T. WILSON
 HOPE………..CPO John T. Wilson, USN, Ret., 80, of Hope, passed away on Thursday, December 27, 2012 at the Maine Veteran's Home in Augusta after a long struggle with Alzheimer's disease. Born in Newark, New Jersey on May 6, 1932, Ted was the son of Col. John T. and Elsie (Hay) Wilson and was a Class of 1949 graduate of Camden High School. On September 4, 1954, he married Lorriane A. Zahansky in Willimantic, CT.
Ted proudly served in the U.S. Navy from July 17, 1950 to April 23, 1970, during the Korean Conflict and in Viet Nam. The recipient of several medals, Ted was especially proud of the Vietnamese Gallantry Cross for his service with River Division #521. Chief Petty Officer Wilson's military career was primarily in the engine rooms of diesel powered submarines including the USS CERO, USS TIRANTE, USS ATULE, USS DARTER, USS ARGONAUT, USS GRAMPUS, USS SEA LEOPARD, and the USS SUFFOLK COUNTY. After completing seven patrols on the SAM HOUSTON, Ted was transferred to New London, CT where he was an instructor of refrigeration and air conditioning at the U.S. Navy Submarine School Advanced Engineering Department. In 1970, he retired from the Navy and went to work at Connecticut College where he maintained the refrigeration and air conditioning systems at the campus. He also worked at Electric Boat in Groton for three years as a planner.
In July of 1977, Ted and Lorraine returned to the Wilson family farm in Hope and went to work at Wayfarer Marine as a mechanic. At that time, there were few mechanics with his ability, so Ted's talents were utilized at several other local boat yards including Rockport Marine, Lyman Morse Boatbuilding, and others.
Ted had been a volunteer driver for the DAV at Togus and for many years, faithfully wrote letters to service men and women while serving in the military. He monitored the water on Hobbs Pond as a volunteer for the State of Maine for 25 years. He enjoyed his daily three mile walks, snowmobiling, fishing, wildlife, feeding the birds, and building a nest for the loons to lay their eggs on the shore of Hobbs Pond. Ted also gave back to his community in serving as Town Selectman and Code Enforcement Officer for the Town of Hope and had been a former school board member.
Surviving is his wife of 58 years, Lorraine A. Wilson of Hope; three children, Debra Evans of CT; Jay Wilson and his wife, Cathy of Hope; Gary Wilson and his wife, Martha of AZ; two grandchildren, Taylor Wilson and Michelle Evans; and his beloved yellow lab, Kobi and cat, Heidi. He was predeceased by his son, Derek Wilson who died in 1996 while serving in the U.S. Marines.
In keeping with his wishes, a memorial gathering will be held at the convenience of the family. If desired, memorial donations may be made in his memory to P.A.W.S., P.O. Box 707, Rockport, ME 04856. Condolences and memories may be shared with the Wilson family by visiting their book of memories at www.longfuneralhomecamden.com. Arrangements are with the Long Funeral Home & Cremation Service, 9 Mountain Street, Camden.
USS Cero (SS-225)
-----------------------------------------------------------------------------------------------------------------------------------------------------------------------------
Jon Geiger
Went on Eternal Patrol 6 August 2012
Qualified 1968 on
USS Sterlet SS-392
----------------------------------------------------------------------------------------------------------------------------------------------------------------
Alex Robertson
WISCASSET - Alexander Robertson, 80, of Brookside Lane, passed away Monday, May 5, 2014, at Mid Coast Hospital in Brunswick, with his family by his side. He was born in Waterville on July 11, 1933, a son of Raymond Scott and Sadie Ardalice (Barkhouse) Robertson. He attended Fairfield schools.

He enlisted in the Navy in 1950, serving on the USS Irex, USS Sea Robin, USS Thomas Edison and the USS Pogy. He qualified in submarines on the USS Irex (SS-482) in 1958 and was a ENC(SS) when he retired from the Navy in 1969. He was a member of the USSVI Maine Base.

On May 16, 1959, he married Audrey Ames, whom he met through her brother, Charlie, while they were serving on the USS Irex together. Following retirement from the Navy in 1969, they moved back to Maine, and he owned and operated Dairy Queen in Woolwich from 1972 to 1979. He opened the Montsweag Outlet in 1980 and was employed by the town of Wiscasset, retiring in 1992. He was active in the Lincoln Lodge. He enjoyed camping, taking two trips cross-country to Alaska. He was an avid sportsman who loved hunting and fishing, especially trips to Lake Ontario fishing. He enjoyed racing, and drove stock cars in Connecticut and Maine. He enjoyed spending time with his grandchildren, Taylor and Connor. In recent years, he especially enjoyed reading Taylor's poetry and watching Connor race his go-cart. He is survived by his wife of 55 years, Audrey Robertson, of Wiscassetone son, Jeffrey Robertson, and his wife, Tracy, of Wiscasset; five sisters, Barbara Sevey and her husband, Richard, Charlene Bridge and her husband, John, Virginia Michaud and her husband, Lee, Rosemary Covey and her husband, Snoopy, and Kathleen Perelka and her husband, Bob; one brother-in-law, Len Nadeau; two grandchildren, Taylor and Connor Robertson; and many nieces and nephews. He was predeceased by one sister, Elizabeth Nadeau.
USS Irex SS-482
Alex's Qual Boat
Fair Winds, Following Seas, Rest Your Oars Shipmate
--------------------------------------------------------------------------------------------------------------------------------------------------------------------------------------
Doc Chapman
Went on Eternal Patrol 2 February 2015
Qualified 1953 on
USS Cutlass SS-478
Warren — William Edward Chapman, 88, died peacefully in his sleep Monday, Feb. 2, 2015; his loving wife was by his side. He was born Jan. 17, 1927, in Boston.
William was predeceased by his father, Leland Chapman; his mother and stepfather, Flora Nichols Norwood and Howard Norwood; his brother, Joseph Chapman; a stepbrother, Dell Norwood; two nephews and a grandchild.
He is survived by his wife, Judith Chapman, of Warren; two sisters, Arlene Haskell of Winslow and Irene Powers of South China; three children, Samantha Chapman Zdrojewski of Goose Creek, S.C., Walter Edward Chapman of Warren and Shawn Lawrence Chapman of Thomaston; and their mother, Sheila Louise Chapman, of Kittery Point. He is also survived by five stepchildren, Wendy VanDine, Harold Clarke Jr., Steven Clarke, Jill Sullivan and Jackie Madore.
William and Judy enjoyed a blended family, on his side he had eight grandchildren, and 18 great-grandchildren; on Judy's side there are 11 grandchildren and seven great-grandchildren. He is also survived by a sister-in-law; two brothers-in-law; numerous nieces and nephews, as well as great-nieces, great-nephews and cousins.
William graduated from Warren High School in 1944. Following high school, he enlisted in the Navy, serving his country proudly from 1944 until 1964, when he retired as a chief petty officer. Some of his duty stations included the naval hospitals in Annapolis, Md., Newport, R.I., Portsmouth, Va., and Portsmouth, N.H.; bases in New London, Conn., New York, Bainbridge and Bethesda, Md., Brunswick, Boston, Bermuda and Camp Lejeune, N.C. William eventually retired from the Naval Radio Station Cutler in East Machias. He served proudly aboard several submarines including USS Cutlass, USS Sea Owl, USS Skate and USS Corsair.
Following his retirement, William was employed for six years with the Oxford Paper Company in Rumford before beginning his career with the Maine Department of Corrections. He worked first for the Department of Probation and Parole for three years and later for more than 22 years as an officer at the Maine State Prison.
Always civic and fraternally minded, William remained active in several fraternal organizations, including the Rockland Lodge of Elks, No. 1008; Winslow Holbrook Merritt American Legion Post No. 1 in Rockland; the Mid Coast Shrine Club, the Kora Shrine Temple, Masonic Lodges in both Warren, and Kittery, Warren Odd Fellows, and he was a life member of the Fleet Reserve Association.
William enjoyed poker nights with his friends, as well as monthly breakfasts with other retired prison guards. He took great pleasure in being outdoors, taking hunting trips to Dixfield and outings to the Allagash with his dogs. He always had a vegetable garden and loved sharing the fruits of his labors with family, friends and neighbors.
He was very proud of his military career and enjoyed sharing his stories and experiences with others, often attending military reunions. Until recently when his health no longer allowed it, William and Judy enjoyed winters in Florida.
He will be sadly missed by all who knew him.
A burial with military honors will be held Thursday, May 14, at 2 p.m., at Pleasantville Cemetery, Route 131, Warren.
In lieu of flowers, donations may be made to Honor Flight of New England, P.O. Box 16287, Hooksett, NH, 03106; or Wounded Heroes Program of Maine, P.O. Box 1797, Saco, ME 04072.
To share a memory or condolence with William's family, visit his Book of Memories at bchfh.com.
Arrangements are with Burpee, Carpenter & Hutchins Funeral Home, Rockland.
USS Cutlass
=====================================================================
Real J. Cyr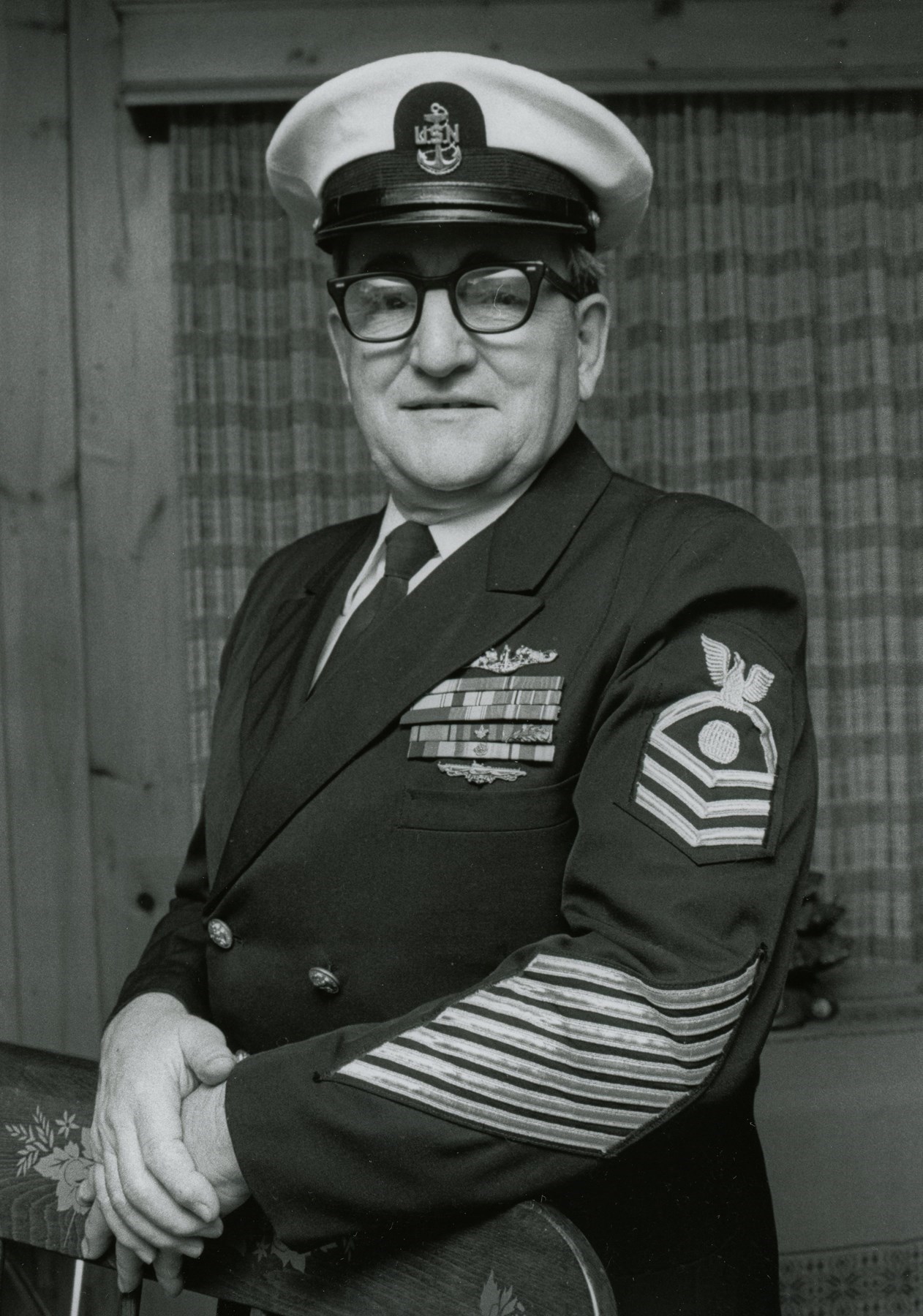 <![if !supportLineBreakNewLine]>
<![endif]>
Qualified 1942 on the USS Herring SS-233
WINSLOW - Real Joseph "Moose" Cyr, 91, passed away Sunday May 8, 2016 in his home with his family by his side. He was born on March 16, 1925 in Maria, Conte de Bonaventure, Provence de Quebec, Canada, the son of the late Alfred (Fredo) and Maria Amelia (Guite) Cyr.

Real, eldest of seven, helped his father farm, fish salmon and cut wood for the long winter. While Fredo worked winters as a cook for the Canadian survey team in northern Quebec, Real tended the 100 milk cows and other farm animals.

At the age of 15 ½ he enlisted in the Canadian Army, finished basic training but was released when they discovered he was under age. Later he enlisted in the Canadian Navy and was accepted because he had previously finished basic training. By the time they found out he had been under age, it was too late.

Real served on a British corvette in the North Atlantic sailing between England and Murmansk, Russia. Later he entered the submarine service and became a frogman, underwater demolition (similar to the Navy Seals), in the fiords of Norway where he was captured by the Germans after attempting to sink a German Battle Cruiser. He and two others escaped during transport through France. He was aided by the French underground, hidden in a convent dressed as a nun and three days later repatriated to the allies. He then served on the American submarine USS Croaker in the Pacific until the end of the war. Of his military experience he spoke simply, "We fought hard: We played hard. We were glad to be alive."

After the war, Real was hosted by his aunt in the U.S., became an American citizen, worked as a Master electrician with Scott Paper for 39 years, met his lovely wife, Theresa, on a blind date, got married and had 5 devoted children.

Real was completely devoted to Family, service of country and to community. He was a volunteer fireman, electrical and building inspector, member of the Calumet club, Knights of Columbus, and former Post Commander for the American Legion in Waterville.

Real is survived by his wife, Theresa; his five children: Richard, Jeanne, Suzanne, Victoria and Andrew who all miss him dearly; ten grandchildren; four great-grandchildren; his brothers Richard and Gaston; his sisters Patricia, Jeannine and Madeleine; as well as a large extended family.

Visiting hours will be on Sunday May 15 from 2-4 PM at Veilleux Funeral Home, 8 Elm Street, Waterville, ME. A Mass of Christian Burial will be celebrated on Monday May 16 at 11:00 AM at St. John the Baptist Catholic Church, 26 Monument St, Winslow, ME. Burial will follow in St. Francis Catholic Cemetery, 78 Grove Street, Waterville. Please visit www.veilleuxfuneralhome.com to view a video collage of Real's life and to share condolences, memories and tributes with his family.

In lieu of flowers, donations in the name of Real Cyr may be given to: Sacred Heart Soup Kitchen, 72 Pleasant St, Waterville, ME 04901 or Honor Flight New England, 1193 Hooksett Road #2, Hooksett, NH. 03106.
<![if !supportLineBreakNewLine]>
<![endif]>
USS Herring SS-233
--------------------------------------------------------------------------------------------------------------------------------------------------------------------------------------
Kenneth N. Hall
Qualified 1953 in
USS Hardhead SS-365
B
BRENTWOOD, NH - Kenneth N. Hall died April 5, 2019.

Born on July 5, 1933, in Exeter Hospital, he was the son of Allen E. Hall and Cora (West) Hall.

He lived in Fremont in his youth and was a graduate of Sanborn Seminary, Class of 1951.

He joined the U.S. Navy after graduation and retired as master chief submarine qualified TMCM (SS) E9. During Operation Ivy, Ken witnessed the first H bomb on Nov. 1, 1952. He was also at the first launching of an atomic submarine, the USS Nautilus (SSN-571) in 1954.

Ken also served in submarines: USS Balao SS-285, USS Torsk SS-423, USS Threadfin SS-410, USS Blenny SS-324 and USS Sea Poacher SS-406.

He retired from AT&T/Lucent as a layout/foreman of final test and inspection.

Ken enjoyed camping every summer with his family and friends at Hermit Island, Maine.

One of his great pleasures was climbing Mt. Washington and Mt. Chocorua with his whole family.

He was a member of The American Legion. He was also a long time member of the USS Maine Base, United States Submarine Veterans Inc. (USSVI).

He was predeceased by his wife of 52 years Marilyn Ainsworth Hall. He was also predeceased by his second wife Carmen Auilda Hall of seven years.

Family members include five children, Donald Hall, Dana Hall and wife Patricia, Daryl Hall and wife Elise, Douglas Hall and wife Jayne, and daughter Darlene Hartt and husband Wayne; 11 grandchildren; and six great-grand-children.

SERVICES: At the request of the family, services and burial will be private.

In lieu of flowers, memorial donations may be made to organizations to feed the hungry regardless of race or creed.

Paul C. Rogers Family Funeral Home, 2 Hillside Ave., Amesbury, Mass., is in charge of arrangements.

<![if !supportLineBreakNewLine]>
<![endif]>
USS Hardhead SS-365
--------------------------------------------------------------------------------------------------------------------------------------------------------------------------------------